Ban All New Political Ads Before Election Day? Sounds Nice, May Be Impossible
Facebook has failed at this kind of effort before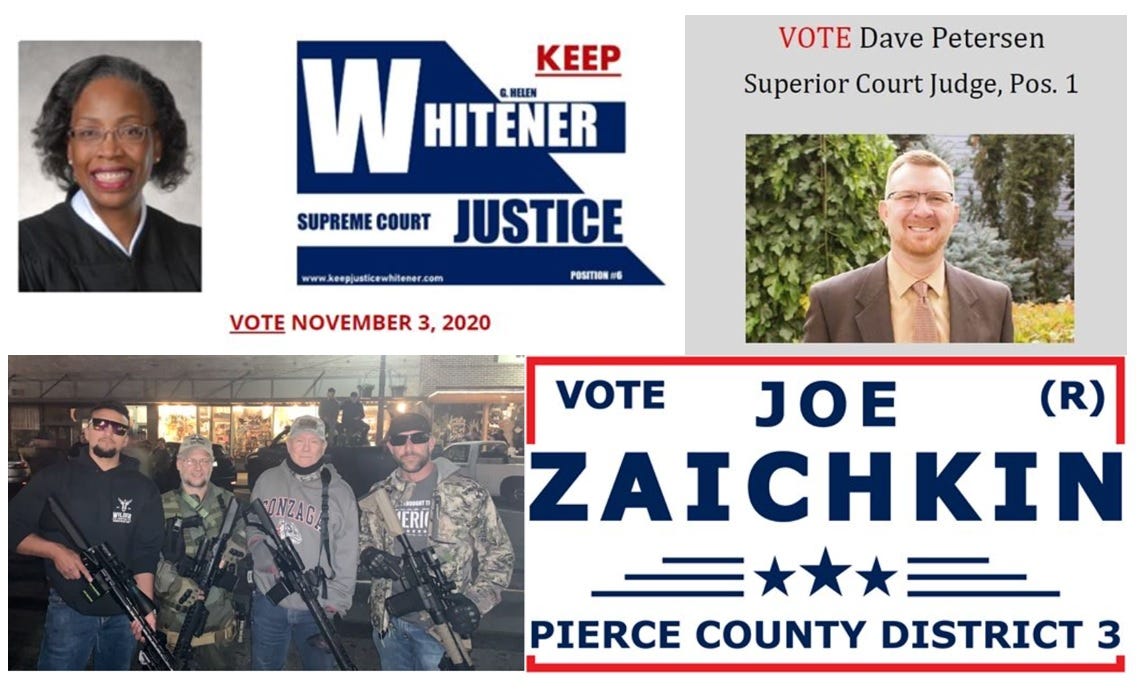 Amid the deluge of viral falsehoods and presidential misinformation, it sounds like a downright relaxing idea: a total ban on new political ads, beginning one week before Election Day.
That's Facebook's plan, put forward last month as part of an effort to "protect our democracy" ahead of a nationwide vote that, even before the wild first presidential debate and President Trump's COVID diagnosis, clearly needed new guardrails.
In explaining the looming ad halt, Facebook CEO Mark Zuckerberg said he's worried there won't be enough time in the final stretch of the campaign for "bad speech" in online political ads to be countered by "more speech" from competing online political ads. Rather than just sit back and let everyone reap the whirlwind, he's shutting it all down for a week to prevent unanswered, lie-filled closing arguments from being the last thing voters see on Facebook before they head to the polls or mark their mail-in ballots.
The stakes are high. If this ad ban isn't airtight, one side in any of the countless elections being decided this fall could suddenly gain an unfair, last-minute advantage by slipping prohibited ads through.
So the question is simple: Can Facebook actually make this ad ban stick?
The company's ongoing failure to enforce a much smaller ban on political ads aimed at Washington state's elections suggests major problems ahead. So does Facebook's recent admission, in Washington state court, that it can't simply flip a switch and block all political ads "with 100% accuracy." In the context of a digital ban, the company said, "some ads inevitably slip through."
Asked what this admission portends for the nationwide ban Facebook's set to launch on October 27, Andy Stone, a company spokesperson, said the court filing speaks for itself.
He also confirmed that Facebook intends to block all political and issue ads aimed at American elections. Everything from your local school board fight on up to the chaos-filled race for president will be affected.
The unprecedented breadth of this ban makes it hard to imagine Facebook executing it perfectly, especially given that to this day, nearly two years after Facebook announced its ban on political ads in Washington state, the company is still failing to block supposedly banned ads—including several Washington state election ads shown in the image above.
---
Like the current plan to ban all American political ads, Facebook's plan to ban political ads in Washington state began as a way to keep the company from getting in trouble for poor corporate citizenship.
When Facebook launched its Washington state ad ban in December 2018, it was attempting to avoid Washington state's uniquely strong transparency requirements. The theory was simple: if no more Facebook ads were sold targeting Washington state's elections, then no more state-level disclosures by Facebook would be required.
But it turned out Facebook couldn't stop itself.
As Washington State Attorney General Bob Ferguson alleged in a lawsuit filed against Facebook in early April, the social media giant went on to sell more than $500,000 worth of ads to more than 150 different Washington state campaigns during the first 16 months after its supposed ad ban went into effect.
A new analysis of publicly available data by Wild West shows that over the five months since Ferguson's lawsuit was filed, Facebook has continued to sell ads targeting Washington state's elections.
More than three dozen Washington state campaigns have reported Facebook ad purchases since early April, and although many of those ads were eventually taken down by Facebook, a number of them racked up significant views before they were shut off. Some still remain active as of this writing.
For example, Washington State Supreme Court Justice G. Helen Whitener currently has ten different active Facebook ads running to support her race for a new term. (Washington is one of 15 states in which voters choose judges in non-partisan elections.)
Since July, Justice Whitener has spent more than $13,000 on her Facebook ad campaign, giving her the opportunity to reach well over 5 million Washingtonians, according to Facebook's ad archive. The last time the fate of her state supreme court seat was put in voters' hands, only around 2.7 million votes were cast in the race.
The potential for claims that Facebook is giving an unfair advantage to candidates such as Justice Whitener is obvious—and not just theoretical. Last year, when Facebook sold banned election ads to some candidates for Seattle City Council but not others, the director of Seattle's Ethics and Elections Commission, Wayne Barnett, said the company was creating "a huge problem."
Now imagine this kind of problem on a national stage, with our bitterly contested presidential election as the backdrop and, perhaps, President Donald Trump or his challenger, Democratic candidate Joe Biden, angrily denouncing new Facebook ads that have somehow managed to appear less than a week before Election Day.
If this happens, it'll make Facebook's issues in Washington state look tame.
---
Justice Whitener did not respond to requests for comment about her Facebook ads, but the Washington State Public Disclosure Commission has made clear there's nothing illegal about local campaigns buying ads if Facebook's selling them. The company's ban on Washington state political ads is simply an expression of Facebook's own self-generated policy; if Facebook ends up selling ads in violation of its own policy, that's Facebook's problem.
What is illegal, according to Attorney General Ferguson, is for Facebook to continue selling ads targeting Washington state's elections while also "repeatedly" failing to provide all the disclosures Washington state requires the company to make about the financing and reach of those ads.
This means that while legal jeopardy continues to exist for Facebook in Washington state, there's no legal problem for Republican Joe Zaichkin, who's presently running for county council in a region south of Seattle and has spent about $290 on supposedly banned Facebook ads since August.
That's not much money, but, in a sign of how important it will be for Facebook to make its national ad ban work all the way up and down the ballot, Zaichkin's ads have bought him something significant: more than 27,000 impressions, according to Facebook's ad archive. That's more than half the total number of votes cast last time the council seat Zaichkin wants was up for grabs. His opponent doesn't appear to be running any Facebook ads.
Same situation out in Eastern Washington, where Dave Peterson has spent roughly $820 on Facebook ads in his race for a Superior Court judgeship. In a small rural contest, small money like that can make a big difference.
Even when ads later get taken down by Facebook, something of value can be achieved in the intervening period. That's what happened for Republican state house member Robert Sutherland, who spent around $500 this summer on Facebook and Instagram ads.
Those ads show Sutherland holding a high-powered rifle beneath text that suggests he's been busy defending "our little town of Snohomish, WA" from the kind of urban violence conservatives have been intensely focused on amid a wave of national protests against police killings of black men and women. ("It worked," Sutherland wrote in the ad, speaking of his armed action. "And our town suffered no damage nor any real violence… Please, will you help my re-election campaign by making a donation? … PS I'm the guy in the light-colored 'Gonzaga' sweatshirt.")
Sutherland's ads appear to have run for several days before Facebook caught them. While up, they were displayed on targeted screens at least 60,000 times.
---
Now imagine, again, this kind of porous ad ban playing out on a national stage beginning less than three weeks from today. Next, consider in greater detail the reason for the numerous, ongoing holes in Facebook's political ad ban in Washington state, as explained by the company's own lawyers in the ongoing case of Washington State vs. Facebook:

Perhaps there'll be something easier about banning all political ads, targeting every election up and down the ballot in America, beginning October 27. It could be the case that Facebook can more easily flip that switch off than it can flip a figurative switch for just ads targeting Washington state.
But given the large number of candidates who've found ways around Facebook's ad ban in Washington, it seems likely that Facebook's upcoming nationwide ban will exhibit a similar percentage of holes.
Given Facebook's huge influence on our elections and our democracy, we should be ready for what happens if this kind of failure occurs.
I'll be watching. If you're watching, too, and you see new Facebook political ads running after October 27, please send me screenshots at wildwestnewsletter@gmail.com
---
As always, a few of the stories I've been tracking this week:
• "Google's biggest ever financial commitment to the news industry" — Axios reports on the search giant's plan to spend $1 billion to pay journalism publishers.
• "Congress is doing a tremendous service" — The Seattle Times editorial board on the push to scrutinize the "excessive, harmful market power of online platforms."
• "Maddening" — Democratic members of Congress to Recode, describing the months they've spent working quietly with Facebook to protect the upcoming election. During that time, they say, the company has "failed to meet promises to stem the tide of misinformation."
• "Inconsistency" — The Washington Post looks at Twitter's response to users who expressed the hope that Trump will die from his coronavirus infection (as opposed to Twitter's response to all manner of other wishes for death that are routinely expressed on the platform).
• "No statistical evidence" — NPR looks into the claim that Facebook is unfair to conservative voices.