Welcome to Wild West!
A newsletter about the legal shootouts that could redefine rules for the internet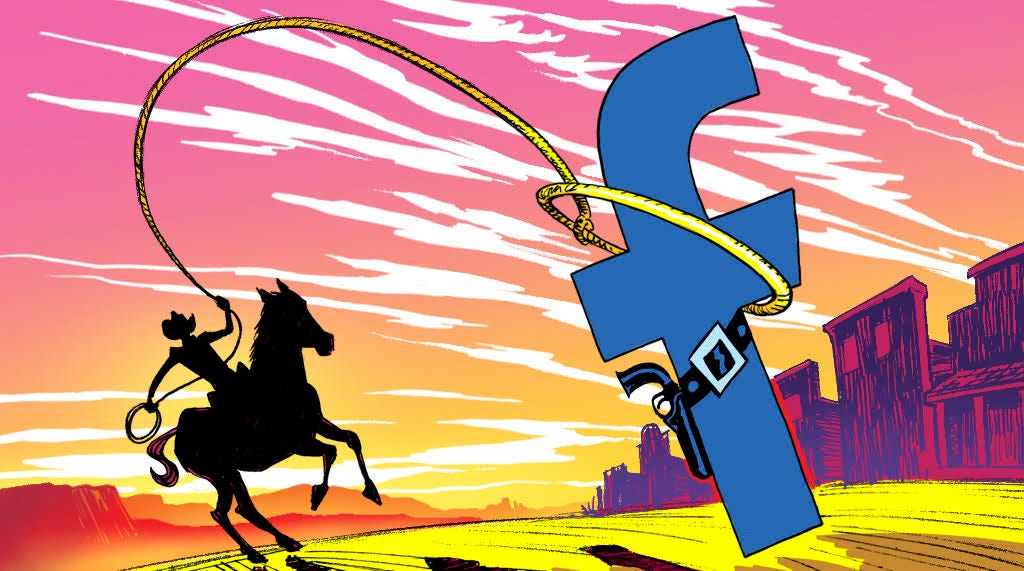 Right now, in an overlooked lawsuit in Washington state, the largest social media company in the world is telling a judge it doesn't have to follow the law.
The company: Facebook.
The instigator of this lawsuit is a state attorney general who appears determined to bring the legal hammer down on the "Wild West" of the internet. If this attorney general stays true to form, there could soon be another tech behemoth in the same courthouse fighting the same type of battle: Google.
At a time when tech platforms continue to roil our reality, re-order our lives, and influence our politics, these courthouse confrontations in Washington state are poised to test the limits of digital power. They'll also offer a rare look at what the government and Big Tech say to each other as they battle over rules for the internet road and, ultimately, the future of our teetering republic. 
Already, filings in the Facebook case are shining a new light on some of the loudest online controversies of the moment: free speech, election integrity, and the rights of the individual in a world increasingly dominated by automation.
Adding to the intensity of this clash, the arguments in Washington State vs. Facebook will feature a Democratic attorney general fighting in court against a former Republican attorney general who's been hired by Facebook's legal team. Over the coming months, their debates will continue to unspool in pleadings and oral presentations that promise to range far beyond the superficial talking points that normally get tossed around when Americans argue about what rules should govern speech on digital platforms.
On the line, according to Facebook, is nothing less than the First Amendment. On the line, according to Washington state, is nothing less than informed democracy and a state's right to regulate its own elections.
The courtroom battles in Washington state are also certain to focus on something dear to my journalistic heart: records.
At the core of this particular legal fight is a repeated refusal by Facebook and Google to turn over public records about election ads. In Washington state, a unique law says digital platforms must give such records to "any person" who asks, and about three years ago I became the first person to walk into the Seattle offices of Facebook and Google, copy of the law in hand, and ask.
Before long I also became the first person to be stiff-armed by the companies in response to this sort of request—but not the last.
My reporting on the way Facebook and Google flout Washington state election law led to the attorney general's current legal action. It also led to two previous legal actions against the companies by the AG that were settled out of court. And it won me a nerdy local award from the Washington Coalition on Open Government (that, awesomely, came with a lucite obelisk twice as tall as the one I got back in 2012, when I received a somewhat fancier award for writing about a trial).
With the current case, I want to test something: Can a complex and consequential court proceeding be covered via newsletter?  
I think it just might work, and I'm hoping you'll come along with me on this journey while supporting my reporting if you find it valuable.
Over my two decades as a journalist, I've noticed that when my work has had major impact it's almost always been connected to my coverage of trials or legal issues. A rape survivor's searing testimony at the trial of her attacker, an off-the-rails newspaper war in San Francisco that got so intense it had to be litigated, a Washington State Supreme Court Justice who was removed by voters after I exposed his hypocrisy, a victim of an anti-gay hate crime facing his young Evangelical attackers—these are among the stories I'm most proud of writing.
Along the way I've learned what anyone who's watched Law and Order already knows: court cases have natural narrative arcs. But in the real world, those arcs tend to reveal themselves slowly. It's rarely finished within the span of an hour, never mind a week or even a month. The more complex the case is, the longer it runs, and the longer it runs, the harder it can be to justify investing the time and space it takes to unpack it for readers.
There used to be a common job in newsrooms: courthouse reporter. This person was tasked with doing extended trial watching and legal unpacking. They'd spend their days scouring the dockets for interesting and overlooked lawsuits, filing reports on hot testimony, and generally keeping readers connected to a sense of how justice was—or was not—working in their community. When the decimation of local newsrooms began, courthouse reporting, with its massive time investments, was one of the first specialties to go.
So I have an ulterior motive here, too: I want to explore whether the newsletter format could be a way to get more journalists covering local courts again.
But my first motivation is the fascinating case I've barely scratched the surface of in my description above—an argument between the people's attorney in Washington state, on the one hand, and Facebook on the other. It's not the only fight over tech regulation going on in our country right now, and I intend to use this newsletter to keep you abreast of other, similar standoffs around the nation and in Congress. But at a time when most tech regulatory efforts seem to end up stalled out or shelved until the next administration, this one in Washington state could actually end up being, for now, one of the most consequential.
So join me each week as I explore the landscape of looming tech regulation while unpacking the fascinating case of Washington State vs. Facebook (and, if and when it comes, Washington State vs. Google).
My intention is to make my reporting free for all, for as long as possible.
However, if you believe in this kind of independent journalism, want to see more of it, and want to help keep it free for those who can't pay, I'd be delighted to have you as a subscriber for $50 a year. If you want to pay less right now, but a little more over time, you can subscribe for $5 a month. Founding Member rates are also available for those who want to put down a little more—or a lot more—to support this kind of accountability journalism. 
Because this work will be funded solely by you, the readers, there will never be ads in this publication. Your subscriptions ensure total editorial independence and—equally important—freedom from having to chase clicks or stir cheap outrage.
When the Facebook trial comes, subscribers and founders will get access to behind-the-scenes thoughts and insider views. Until then, I'll also be doing subscriber- and founder-only Q&As with readers and experts. (Have a Wild West-related question you want me to answer? Or an expert you want me to talk to? Email me at WildWestNewsletter@gmail.com.) 
---
As I hope to do every week, here's a list of a few stories I'm following that highlight the ongoing conflicts between the desires of the world's tech titans and the needs of average people.
UP NEXT WEEK:  Why Facebook says it doesn't have to follow Washington state's "unconstitutional" law. 
(Illustration by James Yamasaki)