NEWS: Twitter to Pay $100,000 for Breaking Washington State's Election Ad Law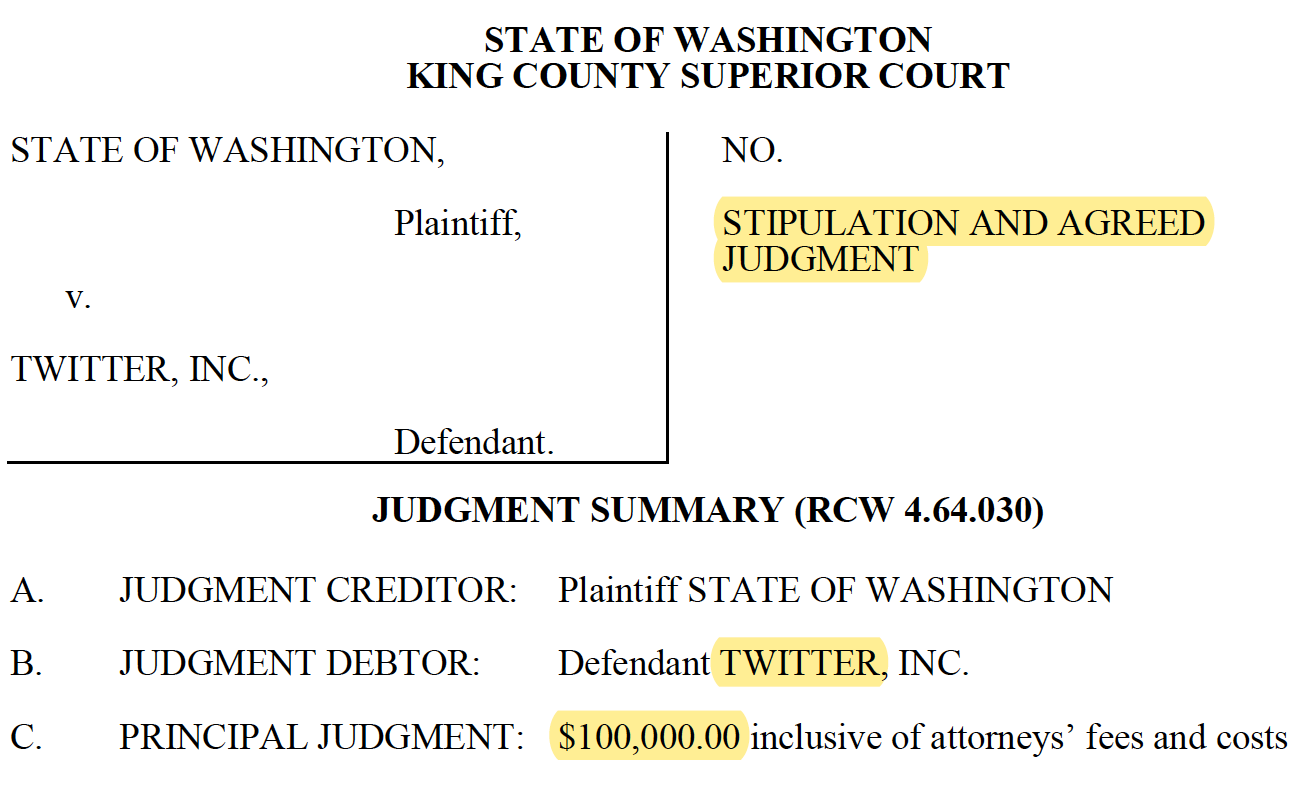 ---
There will still be an email arriving this Wednesday, but first a newsflash on some court action that Wild West naturally finds very interesting.
As I mentioned at the outset, this newsletter intends to track the fascinating case of Washington State vs. Facebook, a clash between technology and democracy that's set to play out in an unusual venue: state court.
A similar case, Washington State vs. Google, may be filed soon. But there's a third legal action I haven't mentioned until now, a lesser case that's been quietly and somewhat mysteriously sitting in the background since the summer: Washington State vs. Twitter.
On Monday afternoon that case officially arrived in Seattle's King County Superior Court and was immediately settled with Twitter admitting it broke Washington state campaign finance law. The company also agreed to pay the state $100,000.
Like the other disputes Wild West is tracking, the core issue in this case is a tech giant's failure to disclose required information about online political ads, which remain largely unregulated in this country—unless they happen to target Washington state's elections.
Twitter first stepped into the political ad-selling game in the fall of 2011 and was soon selling ads aimed at Washington state's local races, but according to Washington State Attorney General Bob Ferguson the social media giant consistently failed to follow longstanding state disclosure requirements for those ads.
The state rules Twitter was charged with violating are meant to promote transparency in elections by helping voters understand who's behind the paid messages they see (and, for digital ads, how those messages are being targeted). Television stations, radio stations, and newspapers in Washington state have long complied with the rules.
Between 2012 and 2019, by Ferguson's tally, Twitter sold $195,000 worth of political ads to campaigns and candidates in Washington state without keeping proper records "available for public inspection," as required by law.
Certainly this $195,000 in Twitter ads was a tiny drop in the multi-billion-dollar sea of digital advertising purchased by American campaigns over the same period. But the law is the law, and in October 2019 a Seattle law student and political activist named Tallman Trask filed a complaint, pointing out that Twitter was failing to give him political ad details he was entitled to receive under Washington state's strong election transparency regulations.
Twitter did eventually provide Trask with much of the information he was seeking, but according to a company lawyer, some of the details Trask was entitled to receive were inadvertently "lost or irretrievably corrupted" after Twitter's CEO, Jack Dorsey, announced in October 2019 that the company would halt "all political advertising on Twitter globally."
In some kind of cosmic coincidence, Trask filed his complaint against Twitter on the same day Dorsey made his announcement, after which an internal "engineering issue" arose, as Twitter's lawyer explained to state investigators. That issue essentially disappeared the Twitter data Trask was seeking, adding to the company's violations of Washington state law.
Going forward, what's most significant about the agreement Twitter just reached with Washington state is that it contains a clear admission of tech giant guilt.
For years, Facebook and Google, when accused of the same types of violations, have pushed back on the Washington state law itself, claiming they're immune from it and, as Facebook recently argued in court, it's also unconstitutional.
When Facebook and Google settled two 2018 lawsuits Attorney General Ferguson had filed against them over this same issue, they paid money to the state ($200,000 each) but avoided admitting any guilt. This successful avoidance strategy helped preserve Facebook and Google's ongoing claims about the impossibility of their having violated this Washington state law, since they're immune from it and it's unconstitutional to boot.
Attorney General Ferguson obviously doesn't agree with those claims, and as Facebook and Google have continued to flout Washington state's disclosure requirements they've wound up in his sights again. Given the statements Ferguson has made about taking repeat violations of campaign finance law seriously, it seems unlikely he'll let them off this time without their own admissions of guilt.
Twitter's deal today states that it hasn't surrendered its right to argue immunity from Washington state's disclosure law in the future. But given that it's now admitted violating that law, I would expect Twitter's actions to become an additional source of pressure on Facebook and Google to do the same.
I've asked Twitter for comment on today's developments, and you'll be able to find the company's response, if and when it comes, on… my Twitter feed!
Questions, tips, comments? wildwestnewsletter@gmail.com